Toromitsu Musume no Hitou Service Torottoro Churu Churu Gohoushi Sasete Kudasai - Episode 1
Summary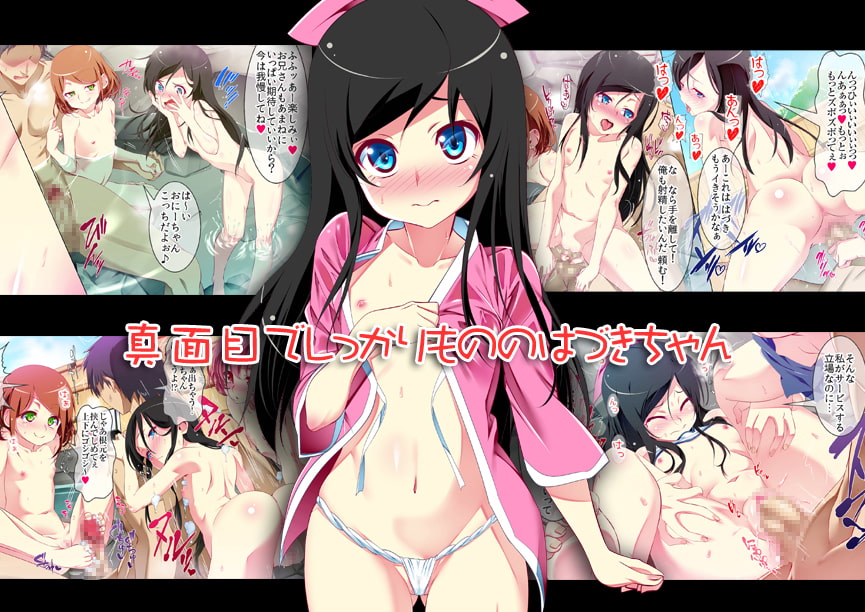 ■ Work introduction
"Welcome to our hot springs!"
(Eh … pure white loincloth … no … not so
What are these cute girls who have trouble finding their eyes?)
A refreshing drive on a sunny holiday
A place with a narrow path in the mountains in the countryside, which should be around that area.
I happened to discover an open-air bath that seems like no one is there
When I go to the bathtub naked without thinking deeply
To be clear, it looked erotic.
There were three cute hot spring girls.
"Hazuki de Susu! Customer! Please sit there
We will do our best to serve you with all your heart! "
"Kus … hey ~ I feel like I can expect quite a lot
But I have no experience with women …
Well, Amanegaa, aside from the heart, the body is
Absolutely satisfying
"Hinade-su Wow, big brother
Hinaisho Kenmei, I'll do my best and chewy! "
Hazuki Amane Surrounded by three Hina, I sit silently
The three of us started to flush our bodies all at once …
"Yes, please put it in raw as many times as you like and put it out inside."
"Yes !?"
"Instead of that …"
This is a CG image collection of the three daughters' Peroperochuru Chutorotoro service.
■ Characters
・ Heroine 1
Name: Hazuki
I think the rules are the most important because I am the daughter of the village mayor and have a family that continues for generations.
Serious, solid, leadership and proactive in pulling everyone.
I pretend to be a non-virgin, but in reality I have no experience just because my ears are getting older
I'm not good at naughty things, but I'm really curious.
Also, I tend to dream and long for flirting romance.
・ Heroine 2
Name: Amane
Do a naughty experiment with a boy of the same age in the village
A problem child in the village who not only does but also captivates young men and uncles.
At first glance, the facial expressions and attitudes are very cute
After that, with the tech that cultivated men, he was a devil who made me addicted
I like to play with and lick and tease men.
However, in reality, my skin is very easy to feel and there are many erogenous zones.
On the contrary, if it is blamed, it will become mellow.
・ Heroine 3
Name: Hina
A bright and innocent girl.
I thought I'd do my best purely for the hot springs in the village
I still don't understand the meaning of sexual matters.
A child who moves positively and does anything obediently when told
From the middle, I start to be confused by the pleasure of knowing for the first time.
·hero
Hiroaki
Ronin who just failed to take the exam.
Never seen during a distraction drive
From the girls who got lost in the hot spring area
To receive excessive service.
■ Play content
・ When you are in a hot spring, the girls on both sides play a trick
・ The service to wash your body uses your whole body to every corner
・ While being held the initiative by the girl, she is blamed at the woman on top posture
・ Intravaginal ejaculation on a small pussy while gently kissing
・ Intravaginal ejaculation by violently blaming Mako for the first time with Piledriver
・ Cowgirl service desperately with an unfamiliar Ma Ko who just lost her virginity
・ Poke a small mako violently
・ In return for being blamed for being blamed, he thrusts up violently and cums continuously
・ Ochi who let me do a lot ○ Cleaning fellatio of three daughters
・ Ejaculation in the vagina all at once side by side
***********
■作品紹介
「ようこそ  私たちの温泉へ!」
(え…真っ白なフンドシ…いや…そうじゃなくて
目のやり場に困るこの可愛い子たちは?)
ある晴れた日の休日に気分転換のドライブ
割とその辺にあるはずの田舎のちょっと山奥の細道を入った場所。
誰もいなさそうな感じの露天風呂をたまたま発見した俺は
深く考えずに素っ裸になって湯船に向かうと
そこには はっきり言ってエロい恰好した
3人の可愛い湯女が?いた。
「はづきですす! お客様!そこに腰をおかけください
心を籠めて精一杯サービスさせていただきます!」
「クス…へぇ~結構期待できそうな感じぃ
でもぉ女性経験はなさそ…あは
えーとね あまねがぁ 心はともかくカラダは
絶対に満足させてあ・げ・る」
「ひなで~す うわぁお兄ちゃん大きいぃ
ひないっしょうけんめい頑張ってコシコシするぅ!」
はづき あまね ひなの3人に囲まれて俺は黙って座ると
三人で一斉に身体を流し始めて…。
「はい 何回でも生で入れて中で出してくださいね」
「ええ!?」
「そのかわりぃ…」
三人娘のぺろぺろちゅるちゅるとろとろご奉仕CG集です。
■登場人物
・ヒロイン1
名前:はづき
村長の娘で代々続く家柄なので掟を一番大事に思ってる。
真面目でしっかりものでリーダーシップがあり率先してみんなを引っ張る。
非処女と装っているが実際には耳年増なだけで経験はなく
エッチな事は苦手意識があるが実際は興味津々。
また本心は夢見がちでイチャイチャ恋愛にあこがれてる。
・ヒロイン2
名前:あまね
村の同年代の男の子をいいなりにしてエッチな実験を
するだけではなく若い男性やおじさんまでも虜にしている村の問題児。
一見すると媚びる表情や態度がとても可愛らしいが
そのあとで男性を培ったテクでドはまりさせてしまう悪魔っ子で
男性を弄んだり舐めてじらしたりするのが好き。
だが実は自分の肌がとても感じやすく性感帯が多いので
逆に責められるとメロメロになってしまう。
・ヒロイン3
名前:ひな
明るくはきはきして無邪気な少女。
純粋に村の温泉のためにがんばろうと思ってて
性的な事の意味もまだよくわかってない。
積極的に動くし言われたら素直に何でもしてしまう子で
途中から初めて知る快感に戸惑い始める。
・主人公
博明
受験に失敗したばかりの浪人生。
気晴らしのドライブ中に見たことない
温泉地に紛れ込んでしまい少女達から
過剰なサービスを受けることに。
■プレイ内容
・温泉に入っていると両隣の女の子からいたずら
・身体を洗うサービスは全身を使ってくまなく隅々まで
・女の子に主導権を握られたまま騎乗位で責められまくり
・優しくキスをしながら小さなマ○コに膣内射精
・マングリ返しで初めてのマ○コを激しく責めて膣内射精
・処女をなくしたばかりの不慣れなマ○コで必死に騎乗位サービス
・小さなマ○コを激しく突きまくり
・散々責められたお返しに激しくマ○コを突き上げて連続絶頂
・たくさんイかせてくれたおち○ぽに三人娘のお掃除フェラ
・マ○コを並べて一斉に膣内射精
Tags:
Anime Hentai
,
Anime Porn
,
Censored
,
Creampie
,
e Hentai
,
eHentai
,
Free Hentai
,
ge Hentai
,
Hanime
,
Hanime TV
,
HD
,
Hentai
,
Hentai Anime
,
Hentai Chan
,
Hentai Foundry
,
Hentai Haven
,
Hentai Manga
,
Hentai Porn
,
Hentai Stream
,
Hentai TV
,
Hentai Vid
,
Hentai Video
,
Hentai Videos
,
HentaiDude
,
mp4Hentai
,
Naughty Hentai
,
nHentai
,
Orgasm
,
Rule 34
,
Sexy
,
Watch Hentai
,
xAnimePorn